Cloud computing has transformed the IT industry, and its growth shows no signs of slowing down. With cloud technology being a fundamental part of many organizations' IT infrastructure, there is a high demand for professionals with cloud computing expertise. In this article, we will provide an overview of the high-demand job roles related to Cloud Computing, The skills required for these roles, and how to get started in this exciting field.
Understanding Cloud Computing
Before we dive into the job roles, it's important to understand what cloud technology is, Cloud refers to the delivery of computing services over the Internet, including servers, storage, databases, and software. Cloud service models include Software as a Service (SaaS), Platform as a Service (PaaS), and Infrastructure as a Service (IaaS). Additionally, there are three deployment models: public, private, and hybrid cloud.
Job Roles in Cloud Computing
There are several high-demand job roles, These include:
Cloud Architect – Cloud Architect is responsible and liable for developing and fostering an association's whole cloud engineering, which incorporates organization, security, foundation parts, and infrastructure components.
Cloud Engineer – Cloud Engineer is responsible for putting the organization's cloud infrastructure, which includes servers, storage, and network components, into place and keeping it up to date.
Cloud Developer – Cloud Developer is accountable for the creation and launch of cloud-based services and applications.
Cloud Administrator – Cloud Administrator is accountable for managing and monitoring the organization's cloud infrastructure, which includes disaster recovery, security, and backups.
Cloud Security Engineer – Cloud Security Engineer is Answerable for planning and carrying out security conventions and measures to safeguard the association's cloud foundation.
Cloud Solutions Architect-  Solutions Architect is a cloud arrangements modeler, you'll work with clients to comprehend their necessities and configuration tweaked cloud-based arrangements that meet their particular prerequisites. Expertise in cloud platforms and tools, as well as the ability to interact with customers and solve problems, are essential for this position
DevOps Engineer – DevOps Engineer is responsible for facilitating development and operations teams' collaboration and ensuring that cloud-based applications and services are deployed and managed effectively.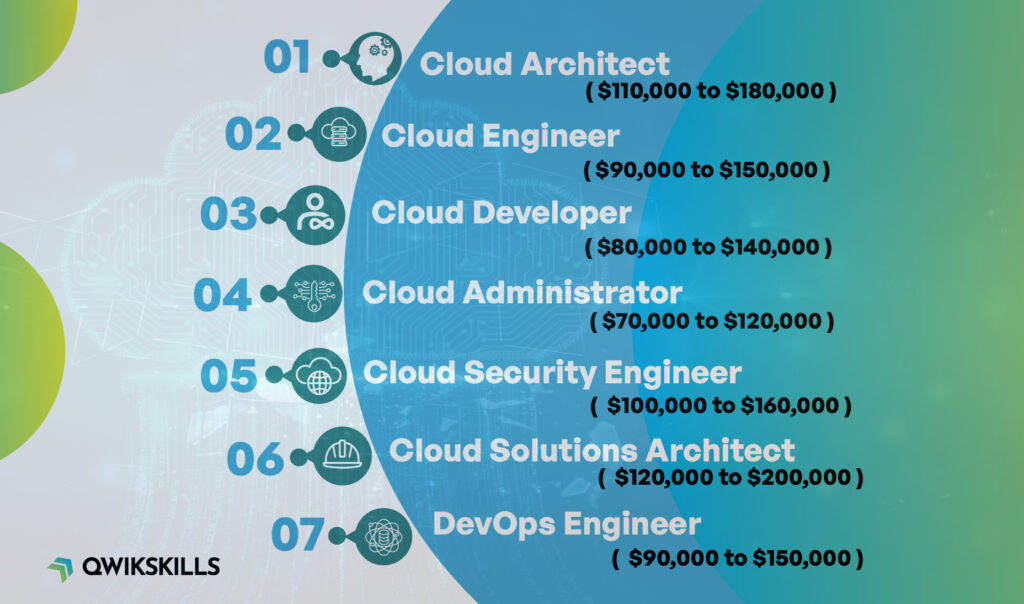 Skills Required for High-Demand Job Roles
To succeed in cloud job roles, it's important to have a combination of technical and soft skills. Technical skills include knowledge of cloud service models and deployment models, programming languages, and cloud platforms such as Amazon Web Services (AWS) and Microsoft Azure. Soft skills include problem-solving, communication, and teamwork. Certification requirements vary depending on the job role, but it's common for cloud professionals to obtain certifications such as AWS Certified Solutions Architect or Microsoft Certified: Azure Administrator Associate.
How to Get Started in Cloud Computing
There are several ways to get started in cloud technology. Education and training options include boot camps, certifications, and college degrees in computer science or information technology. Our online platform Qwikskills offers Cloud Training Certification for beginners and advanced learners. To build a strong cloud computing resume and portfolio, it's recommended to participate in hackathons, contribute to open-source projects, and gain hands-on experience through internships or personal projects.
Job Market Outlook
The demand for cloud computing job roles is expected to grow in the future, with many companies investing in cloud infrastructure to support their business operations. Top companies hiring for cloud computing job roles include Amazon, Microsoft, Google, and IBM. According to the U.S. Bureau of Labor Statistics, employment in computer and information technology occupations, including cloud computing job roles, is projected to grow 11 percent from 2019 to 2029, much faster than the average for all occupations.
Conclusion
Cloud technology is a rapidly growing field, and the demand for professionals with cloud services expertise is high. With the right combination of technical and soft skills, certifications, and experience, anyone can build a successful career in the cloud. If you're interested in pursuing a career in cloud computing, explore Qwikskills' cloud computing courses and resources to get started on your journey.